This summer, thinkspace was named as the 18th fastest-growing private company on the Eastside by the Puget Sound Business Journal. Back in July we celebrated our accomplishment along with 49 other Eastside businesses at a lovely awards banquet held at the Newcastle Golf Course.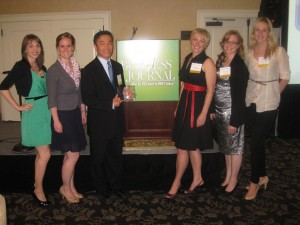 We really didn't think it could get any better! However, this week were were thrilled to learn that we've been named one of the Top 100 Fastest-Growing Private Companies in Washington! On October 12 we will see where we rank. Stay tuned 🙂
We want to extend a huge thank you to our community and amazing members who have helped us get to this point! We wouldn't be celebrating this award without your support and contribution!