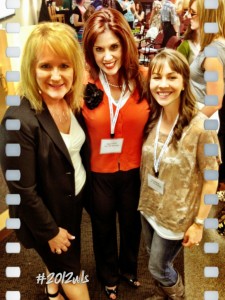 It's pretty hard for me to give up a Saturday. My husband and I both work awfully hard during the week so that we can enjoy the weekends side-by-side. Whether we are cleaning the house, adventuring into a new part of the Pacific Northwest or just enjoying time with our friends and family, Saturdays and Sundays have become quite sacred to us. That being said, when the invite came out for this years Women's Leadership Summit, I didn't think twice about giving up half of my weekend. From my experience with TrueLife Coaching's (a company created and lead by Shandel Slaten) leadership summits past, I just knew it would be well worth it.
And, sure enough, it was definitely worth it! Each year the conference has a similar structure. There is typically a large section focusing on the attendees survey results (which shows your DISC profile and motivators) sandwiched between multiple other amazingly useful info-rich topics (this year there were a couple great panels and a terrific talk on Personal Branding by Debra Trappen who is the Chief Experience Office for CB Bain). Everything I learned at #2012WLS was useful and I highly recommend Debra (or any of the speakers on the panel as a speaker). The most useful bit for me, as seems to be every year, is the information presented by Shandel about the DISC profile and motivators. I very much so recommend that every person looking to grow (whether personally or professionally) takes the DISC test – it has taught me so much about myself and my loved ones. Even though, the DISC and motivators part of the conference is something that I have heard a couple of times now, I always seem to learn new things about myself and the way I communicate with others. This year, what really hit me (my ah-ha moment) was when Shandel was speaking on how DISC scores and motivators play off each other. She said, "Motivators show what you want and your DISC profile will show how you are going to get there." To give you a little background on both, I have listed what the different DISC profiles and motivators.
DISC:
Basically, DISC represents 4 different behavior types: D stands for Dominance, I stands for Influence, S is for Steadiness, and C for Compliance.
[listdot]
Dominance: People with a high score in dominance have an emphasis on shaping the environment by overcoming opposition to accomplish results.
Influence: Those with a high Influence score put great emphasis on shaping the environment by influencing or persuading others.
Steadiness: If you have a high Steadiness score then you probably hold an emphasis on cooperating with others within existing circumstances to carry out the task.
Compliance: And, finally, if your score is highest in compliance then you place a greater emphasis on working conscientiously within existing circumstances to ensure quality and accuracy. (Information from DISCProfile.com.)
[/listdot]
MOTIVATORS:
Motivators are a little different. Motivators have to do with what motivates you to get out of bed in the morning. There are six key motivators that each person contains a certain portion of:
[listdot]
Theoretical: A passion to discover systematize and analyze; a search for knowledge.
Utilitarian: A passion to gain return on investment of time, resources and money.
Aesthetic: A passion to add balance and harmony in one's own life and protect our natural resources.
Social: A passion to eliminate hate and conflict in the world and to assist others.
Individualistic: A passion to achieve position and to use that position to influence others.
Traditional: A passion to pursue the higher meaning in life through a defined system of living.
[/listdot]
For myself, I am a high D and high I. My top motivators are 1. Social (I like to help others and make people happy) and 2. Utilitarian (I also like to make money). This means, all combined and in its simplest form: I want (to help others succeed in life and get a good return for my time) and I will do this by (overcoming obstacles and influencing others to help). It was interesting for me to see this the first time I took the test (which was a coupe of years ago). I knew that people were important to me but I wasn't so sure that I wanted to own up to the fact that making money (or any other kind of worthy return on my investment, like time, people or relationships) was also so important to me. I felt bad. I started wanting my motivators to be like other peoples. Why couldn't I have an Aesthetic motivator and want to see this world become a more beautiful place? Or, a passion to pursue the higher meaning in life? Both of those sound a little more… zen. And, both of these options sounded so much better to me than wanting to make money. But, this year, something Shandel said put a new spin on things for me and I realized that being passionate about Social AND Utilitarian (people and ROI) can be an awesome combination. I love people more than I love money. It's my number one. But, with money a close second, I actually have a great advantage. It means that I want to create Win-Wins. Why? Because I love people and want them to be happy and I want to be successful myself. I wont make a decision purely for the monetary benefits but I also wont make a decision just because of something that will make another happy. So, while I am good at looking out for my team, I always keep the bottom line in mind. Not to toot my own horn, but it seems like a pretty good combination and I feel more confident in myself as a leader, and as a person.
The best thing about the Women's Leadership Summit every year is that I always learn something new. The time spent is always valuable and worth my precious Saturday hours. Coming away with more information on yourself and being able to find the positives about who you are as a person, instead of trying to change yourself to be someone you're not. I would definitely encourage you, if you haven't already, to take the DISC and motivators assessments. You may be surprised what you find out.