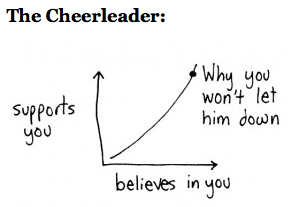 I was reading this article "The 6 People You Need In Your Corner" by Jessica Hagy (@jessicahagy) a Forbes contributor. The six types are: 1) The Instigator; 2) The Cheerleader; 3) The Doubter; 4) The Taskmaster; 5) The Connector; 6) The Mentor. The one that I appreciate most is The Cheerleader. This person happens to be my ex-boss — he's the guy that I hope to become half of what he is and I'll consider myself successful. Jessica Hagy describes The Cheerleader:
The Cheerleader: "This person is a huge fan, a strong supporter, and a rabid evangelist for you and your work. Work to make this person rewarded, to keep them engaged. This is the voice of motivation"
Recently, he said to me "Pete, I want to make an introduction for you". While it's cool that the person that he wanted to introduce me to is someone who could potential open doors for me that I didn't know existed, that's not what I appreciate most. It's how he made the introduction.
Standard Way
[listcheck]
Email Introduction
They Respond
You Respond
Meet For Coffee
[/listcheck]
The Cheerleader, Advocate, Rabid Evangelist Way
[listcheck]
Email Introduction
They Respond
You Respond
Cheerleader says: "Pete, I'm going pick you up and drive you to his office"
Cheerleader says in the meeting: "Pete is one of the best hires I've ever made in my life… gush, gush, gush."
Cheerleader stays in the meeting for the entire time (meeting was scheduled for 1/2 hour, but, goes 2 hours!)
[/listcheck]
Generosity With Their Time
Discussions between me and the person that I got introduced to are still progressing. Regardless of the outcome, what I appreciate most is the support, belief in me, and generosity with his time. Time away from work, family, or anything else that is important to him. Time is the most valuable thing that anyone can give. Not to minimize the email referrals that I've received over the years (which I certainly appreciate), but, who does this kind of thing for another person?! He's the one that gave me an opportunity early in my career and believed in me like no one else ever has. I feel like he took a chance on me when there were plenty of other people that were more qualified, had more experience, and smarter than me. He's the ultimate cheerleader and if I didn't have any of the other five types of people in my corner I'd say this one person was enough for my life.
I hope in the future I'll be able to do the same thing for someone else.