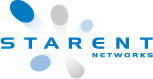 Starent Networks, one of our very first thinkspace members has been acquired by Cisco. Congrats to members Jeff Jackson, Kevin Smith, Vinod Kumar, Steve Bailey, Paul Mentz, Dale Zook, Brett Johnson, and Mark Nelson!
The NY Times reported that on Tuesday, October 13th, Cisco announced that it would pay $35 a share, or $2.9 billion, for Starent Networks, which makes products that help wireless telecommunications companies ship large volumes of data to phones and computing devices.
The deal represents about a 20 percent premium over Starent's closing price on Monday of $29.03 a share. After the announcement, Starent's shares rose $4.88, or almost 17 percent, to close at $33.91 on Tuesday.
The all-cash deal is expected to close in the first half of 2010.
Pankaj Patel, SPV/GM of Service Provider Business talks about Starent Networks acquisition: "The growth of smart devices and networks have changed how consumers use the Internet. Cisco and Starent share a common vision and culture and bring complementary technologies designed to accelerate the transition to the mobile Internet where the network is the platform for service providers to launch deliver and monotize the next generation of mobile multimedia applications and services. Starent will combine Cisco's strengths in IP NGN and Video and allow Cisco to expand its Mobile Internet offerings to truly be Next Generation Internet offerings."
Watch to the entire video on Cisco's website.