On Saturday, July 16th we hosted the AT&T Developer Program's Mobile App Hackathon! The event started first thing Saturday morning at 9am in our coworking space. Lightning talks from developer support reps started at 10am and by 11am the room was split into teams working away on different code ideas! We had 135+ developers networking, collaborating, and building apps all day- needless to say the room was buzzing!



After a long day, 13 teams stepped up to the plate and demoed their apps to a group of sponsor judges and the other developer attendees. I was pretty blow away by some of the apps.
Emergency Response System- app designed for efficient rescue communications during a natural disaster.
Clockers– a time card tool that syncs with Google Docs.
About Face– pulls up contact info using Face.com after taking a picture of someone.
NoHo– a "consensual consent" digital signature app that will capture someone's age, photo, and signature using DocuSign's API.
LunchPad.me– a group lunch planner designed to eliminate the hassle of deciding where to eat lunch as a group.
HashMonkey– app that compiles twitter users who tweeted using a particular hashtag and enables users to auto-follow people on the list.
DigDin (do it good, do it now)- app designed to help people help each other.
Fishtank- an app that catalogs and identifies pictures taken of fish.
Scan Survey– a consumer survey app that can be used by retailers to get real-time feedback and to provide rewards.
QR Sync– QR code scanner that will catalog previous scan results.
ScrachPad– Windows app that syncs with UberNote.
My Kid is a Genius– app designed for parents who want to save their children's artwork without physically storing it.
Headshot– an augmented reality laser tag game using a Windows phone camera.
Droidle– etch-a-sketch game for the Android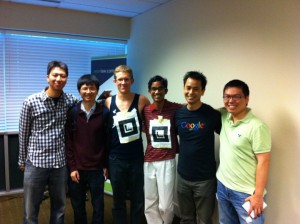 Team Headshot won 1st place for their laser tag game designed for the Windows Phone. Interestingly enough, Team Headshot had one member who graduated from high school in June, and one team member who will be entering his high school senior year in the fall. I think it's safe to say that majority of the audience was impressed with the skill-level and creativity behind the Headshot app!
2nd Place- QR Sync
3rd Place- HashMonkey
4th Place- Scan Survey
thinkspace was honored to host AT&T's Mobile App Hackathon. We were thrilled with the attendance and level of engagement at the event. Stay tuned for similar developer events at thinkspace in the future! Thanks to Blazing Bagels, Noodle Land, and Red Bull for keeping us fueled throughout the day.