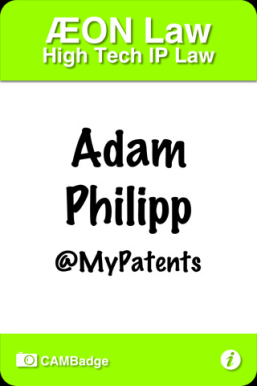 There's a new networking app called "CAMBadge". I saw this app at the AT&T Mobile Hackathon that we held here last weekend. The CAMbadge is the name badge that always has your information correct and can help you remember the people you meet at events. Just tap the screen and it takes a picture of the person that tapped it.
Adam Philipp is the creator of this Mobile App. It's certainly an interesting app — I'm a person that is much better with faces than names. If I had an iPhone, I'd get this app and probably start using it at networking events. The other thing that Adam says is that people don't forget meeting him now!
I've known Adam for a few years now. He's an EO Buddy of mine and we're in EO forum together. Adam is a great guy and shares his knowledge openly. This is one of Adam's strengths. When finding out more about Adam's law firm, he told me that his firm bills out by the project instead of having a hourly rate which is great compared to attorneys who bill out by the 15 minute increments.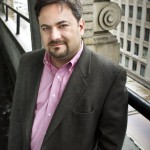 The other thing that is really great about Adam is that he is totally engaged and shows a real passion for the tech and startup community. It's not like he attends these events only when he needs to find a new client like so many other "service provider" folks do. He's truly interested in building great relationships.
Adam Philipp is the the Founder of ÆON Law (aeonlaw.com): Adam has been involved in building IP portfolios around computers, software and the Internet and since 1995. He can be often found out in the tech community looking for the latest new gadgets. ÆON Law is one of the first law firms to move to project-billing for their clients and completely remove billable hours as a performance metric for its attorneys.