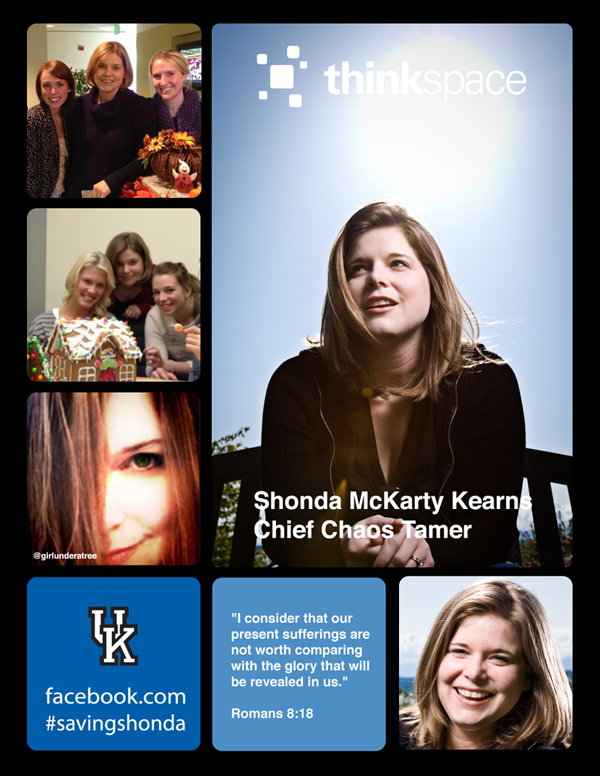 From day one of finding out that she had stage four colon cancer, Shonda McCarty Kearns was a cancer survivor…not a cancer victim. Her survival skills were her optimistic and faithful perspective paired with her contagious spunk and spirit. When asked how she was feeling, Shonda would respond by saying "I'm at 100%, except for this cancer." Shonda never fixated on the cancer itself, but looked to her family, friends, and faith. Even in the midst of battling brutal treatments, she continued to put others before herself, always wanting to know what was needed and how she could help. Because that's who she was before she was diagnosed. And that's who she remained true to be.
While at lunch with her father yesterday, he said the following about Shonda: "She never wanted the spotlight, but always wanted to be the center of attention." Today, she will get to have both. At 3pm, there will be a memorial service at Mill Creek Foursquare Church in Lynnwood. All who knew Shonda, or knew of her, are welcome to attend.
We have the opportunity to partner with Shonda's dreams for her children, Andrew and Rachel. In lieu of flowers, please consider donating to a fund for them by clicking here. And to read more about this lovely lady, click here.