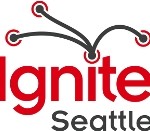 Ignite Seattle was tonight and it was the 10th time it has happened. I have to say tonight's Ignite was the best one that I've attended. The speakers were great and everyone one of them did a great job.
I went to the Ignite Prefunk event at Pintxo which was coordinated by Giyen Dave Manningsmith (incorrectly gave credit to Dave! Updated 6/16/10). Seattle's such a small town and being active on Twitter has made it even smaller. I love the fact that I can recognize people that I'm meeting at these events because I see their Twitter avatars daily in my stream. (nice to meet you face-to-face Liana and Heidi Miller!) It's pretty cool to feel almost an instant connection with people because of this interaction.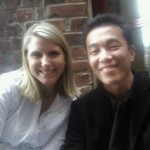 The friendships that are being created are so amazing. Shauna Causey is hysterical. The interaction between Shauna, Scott Ecker, and I was off the chart funny. Scott's prerequisite before following someone on Twitter is candle light dinner; Shauna's clicked this "follow me" button 16,000 times. The jokes had me rolling… I think we were in tears (at least I know I was). We've really got a great community here in Seattle and it's because of the really genuinely nice people.