While I am excited for this upcoming 3 day weekend, I also just cant wait for next Wednesday! thinkspace is going to have the pleasure of having Sean O'Driscoll of Ant's Eye View here to tell us a little bit about how to build brand fans for your business through social media. If you still think that a Tweet is just a sound that a bird makes, then is this the event for you!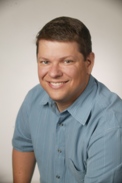 Building Brand Advocates Through Influencer Engagement
Sean O'Driscoll Co-Founder of Ant's Eye View
Wednesday, June 2nd
12 – 1pm thinkspace Redmond, WA
If you heard Sean speak at thinkcamp 2010, then you know you should be here! O'Driscoll and his team have years of experience with companies that you've actually heard of like Dell, The LEGO Company, Intuit, Apple & Microsoft. Sean will use his experience and expertise to help you get on the path to creating meaningful relationships with your clients.
This session explains how identifying and fostering deeper connections with a company's most loyal and respected fans (or influencers) can help to infuse the customer's voice back into the business and empower customers to become advocates in speaking on behalf of the brand. The Ant's Eye View team consists of experienced practitioners delivering proven expertise in internal collaboration, social media, community building, and influencer strategy development.
We would love to see you there and don't forget to invite your friends! This event is FREE and you can register by emailing us at [email protected]!