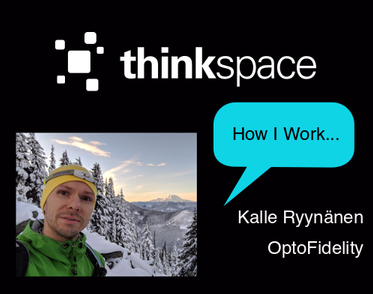 The "How I Work" series, most noteworthy done by Lifehacker, has been reproduced by multiple authors for good reason: people love to hear from successful and influential people and learn the intricacies of their day-to-day. It can be inspiring and motivating to hear about the best, and oftentimes most simplistic practices. In our "How I Work" interview we refined our questions by adding a few of our own and spiced them up with inspiration from Lifehacker as well as thinkspace mentor Matt Heinz. Check out our full compilation of the "How I Work" interviews here.
In this edition you'll be hearing from Kalle Ryynänen who has been working with OptoFidelity since 2007. When he started he was one of the first hires and has been able to be a part of many great teams and projects. Kalle claims that staying hands-on in projects has been the secret sauce as to why he still enjoys being a part of the great team of OptoFidelity. Kalle has been a member at thinkspace Redmond for a year and a half.
Name: Kalle Ryynänen
Current Gig:Director of Accounts and Team Lead at OptoFidelity
One word that best describes how you work: Respond
Current mobile device: Google Pixel
Favorite verb: Do (things)
Grit Score: 3 (If you're interested in learning your Grit Score take the test here.)
How do you recharge or take a break from work? Running before lunch.
What was your dream job/passion project as a kid? There have been many but I didn't pick any of those.
Sunrise or sunset: Sunrise
Tell us a little about your background and how you got to where you are today.
I have done most of my career in OptoFidelity. I started in Finland as a systems engineer at the beginning of 2007. It was just handful of employees then and now we have 150 + 8000 in our mother company. The startup growth has given loads of opportunity and has kept me in OptoFidelity. In 2016 I moved to US and Redmond, WA to establish OptoFidelity PNW operations.
Number of unread emails right now? 3
First thing you do when you come into work? Get a cup of coffee and I try not to read my emails before that.
What is your email management strategy? Don't let the emails pile up. Process them as soon as possible.
How do you keep yourself calm and/or focused? I don't.
What's your perspective or approach to work/life balance? I commute by running and then dedicate time between dinner and kids bedtime + weekends to family.
Are there any work rituals critical to your success? Late evening meetings with remote team.
What apps/software/tools can't you live without? My camera.
Last thing you do before leaving work? Turn the lights off and lock the door.
Who are the people who help you get things done, and how do you rely on them? My boss and support team in Finland are amazing. We communicate often.
What's your least favorite thing to do, and how do you deal with it? Reporting. I deal with it by scheduling.
What are you currently reading, or what's something you'd recommend? I recommend Audiobooks. That is my way of falling asleep at night. My recent favorites have been ultra-running related books and business memoirs. To mention one: Shoe Dog: A Memoir by the Creator of Nike.
Who are some mentors or influencers you wish to thank or acknowledge? My boss Lasse Lepistö has supported me and provided resources as needed.
What is your working process like? Continuous prioritization.
Describe your workspace? Light and bright. The reason for selecting thinkspace is the flexible/scalable office service. This is already our third office in thinkspace within 1.5yrs. We have been able to adjust our space based on our needs.
What's your best shortcut or life hack? I would say that there are no shorts, but being open for new things might take you far fast (or not).
How do you keep track of what you have to do? Confluence task management.
What's the best advice you've ever received? Smile more.
Interested in becoming a "How I Work" spotlight? Contact Stephanie and she'll be excited to come chat!