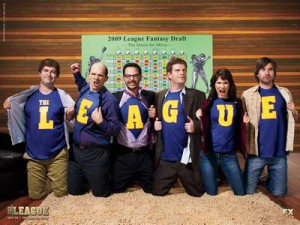 On Monday, July 25th the NFL Players Association signed a new collective bargaining agreement to end the
2011 NFL season lockout
. For professional football fans, this is a huge sigh of relief. However, this announcement is also a celebration for the 15 million+ fantasy football participants. Are you one of them?
According to the Internet's most credible source, the
Urban Dictionary
– fantasy football is defined as, "Dungeons and Dragons for meatheads," and "a game for grown men that makes them regress back to childhood wherein they will turn on their best friends, argue to the death about anything, and become lifeless shells of their former selves." –sounds like a healthy competitive outlet, right?
A more practical
definition
being, fantasy football is "a football competition with imaginary teams which the participants own, manage, and coach and with the games based on statistics generated by actual players or teams of a professional sport."
For those of you who play fantasy football, have you integrated your fantasy football obsession into your workplace?
In order to stay competitive, fantasy football participants spend hours upon hours researching, studying, and analyzing the NFL. For some, fantasy football can be an awful distraction and an anti-productivity suck at the office. Essentially, fantasy football is a project manager's worst nightmare.
NCAA March Madness pools are more commonly accepted and encouraged in the workplace- mostly because March Madness brackets are locked at the start of the tournament, and it's only an office distraction for a couple of weeks. On the other hand, fantasy football leagues require active weekly participation, and a much longer time commitment for the 17-week season (not including playoffs). Employers may want to consider the implications of prohibiting fantasy sports in the workplace, and instead use fantasy sports as a tool to improve morale between coworkers, and to liven up the office chatter.
Why not start a fantasy league for your office? Here at thinkspace, we're well aware that the word "office" means something different for everyone. Whether it's your floor of coworkers, network of virtual employees, desk mates at your
coworking
space, or your fellow coffee shop entrepreneurs- you may want to consider starting a league at work.
Potential benefits of an office fantasy football league:
1. Fun non-sales related competition
2. Have something to talk about with people you usually have nothing in common with
3. Fix your fantasy football addiction in healthy doses without having to go undercover
4. Prize money
5. Office Superbowl Parties
What do you think? Would you participate in a fantasy football league with your office? Employers, would you allow your employees to participate in a office fantasy league?
Most importantly, are you ready for some football?