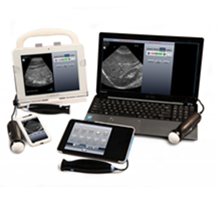 A wise food blogger once wrote, "Valentine's Day will be over soon, but chocolate is forever." So take those words to heart, and join us for some cocoa confections as we showcase thinkspace member Mobisante at our monthly Campfire Show & Tell event! It's all taking place in the second floor lobby at our Redmond location on Wednesday, February 18 at 1:00 pm.
Mobisante is the company responsible for bringing portable ultrasound diagnostic imaging to your smartphone or tablet. And they're doing it at a fraction of the cost of other expensive portable ultrasound systems. As Mobisante puts it:
We've put the power of diagnostic imaging in the hands of the world. On a smartphone or a tablet from Mobisante or a Windows-based device of your own. Not just in the emergency department or the bedside, but on the street, in a home or a remote village.
And at a price for everyone.

Make sure you get there on time! Sailesh Chutani, Mobisante's CEO & co-founder, will begin the event with a brief presentation, followed by Q&A, networking and—of course—chocolate.