Last month I held SMASH, my monthly administrative meetup at thinkspace, and invited my cohort of executive assistants, senior assistants, office managers and the like, and we explored a topic that drew in great discussion: wellness at work. Though I support the CEO and Founder of thinkspace, I also work as a holistic health and running coach. I work both one-on-one and with groups sharing how to add joy to your life. The idea that wellness is bound to eating health foods or going for a run is simply wrong, and joy shouldn't be reserved for after-work hours. I think it's fundamental to fill your day with more joy and that this type of self-care extends beyond the walls of your home.
To me, being joyful in the workplace means clearing away stress and getting sh*t done. When I'm productive and collaborative I feel best and I can't manage doing those things when project goals aren't clear, I'm worried about all the tasks on hand, or I feel unorganized. During my talk at SMASH I set out to explain three bullet points to support yourself in de-stressing and decluttering your mind so that you have the room to be productive, feel full, and allow for positivity to run through your veins while at work. I'm here to share them with you too.
1. Make your to-do list. Studies have shown that people perform better when they have written down what they need to do. Lists dampen anxiety about the chaos of life; they give us structure, a plan that we can stick to; and they are proof of what we have achieved that day, week, or month. Simply writing the tasks down will make you more effective and free the space in your mind from these tasks. Try doing this as the last thing you do before you leave the office for the next day. Whether you're using tools like Trello, Asana, or a pen and notebook, use a system that you enjoy and that works for you and watch your productivity sky rocket.
2. Breathe. Deep breathing is one of the best ways to lower stress in the body. As an entrepreneur, or as someone who supports one, this is something we should all be practicing. This is because when you breathe deeply, it sends a message to your brain to calm down and relax. The brain then sends this message to your body. Deep breathing combats the actions that occur when stressed, things such as increased heart rate, fast breathing, and high blood pressure. When you are in that relaxed state your decision making skills are heightened, you command a stronger presence, and creativity can flow.
Next time you need to relieve stress or clear your mind step away to a huddle room, close the door to your private office and sit on a cushion, or head outside for a few moments and try this:
Breathing Activity
Sit or lie flat in a comfortable position.
Put one hand on your belly just below your ribs, the other on your chest.
Take a big breathe through your nose and let you belly push your hand out. Your chest should not move. Breathe out through pursed lips, like you are whistling. Feel your hand on your belly go in, and use it to push all the air out.
Do this breathing 3 to 10 times. Take your time with each breathe.
Notice how you feel at the end of the exercise.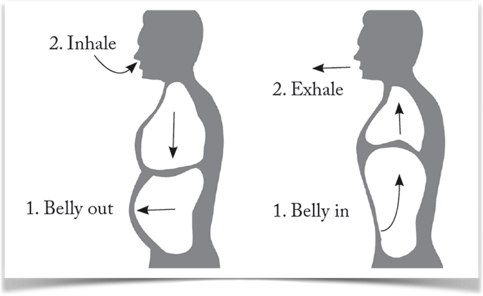 3. Have Gratitude. The purpose of this exercise is to focus attention on the positive things in your life. Studies suggest that feelings of gratitude may even possess mental and physical health benefits. Take a moment to yourself, either first thing when you get to the office, or when needing to take a break for refocus. Founder of Huffington Post and CEO of Thrive Global, Arianna Huffington shares "Gratitude works its magic by serving as an antidote to negative emotions. It's like white blood cells for the soul, protecting us from cynicism, entitlement, anger, and resignation."
Gratitude Activity
Take a moment to let the tasks and atmosphere of the day go. Take three full belly breathes.
Think about what the positive things in your life. Write down two things in your life (work or non-work) that you are grateful for. (Is it a partner, friend, child, teacher, the weather, nature, a book you're reading?)
Write a third item on the list: something you love about yourself.
Reflect on how this activity makes you feel during and after. Did you smile, feel awkward, or happy?
** You don't have to be experiencing a chaotic or stressful day to practice this.
Returning to work after completing these exercises should be reenergizing. Though eating a nutritious lunch (or eating a lunch at all) is definitely part of a healthy routine, de-stressing and decluttering your mind at work will encourage your success as an entrepreneur. Holistic health presents an opportunity to connect a less-stressful state and being able to feel stronger and encouraged throughout the day. This supports an increase in joy and permeates your being. Do you practice other self-care techniques while at work? Share them in comments and help create a discussion about what healthy living looks like.