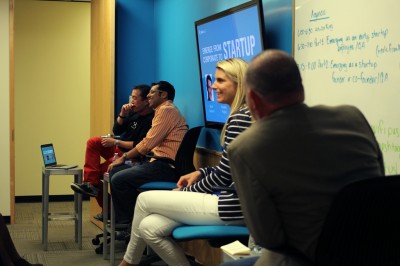 Five years ago when taking an HR survey, PR and marketing executive Shauna Causey discovered that she was in the 100th percentile for empathy. And it freaked her out. But five years later, Shauna, along with Don Gerould of Cogent Equity, Sandeep Phadke of Airlift, and senior technology exec Brad Carpenter, was a panelist at thinkspace's Emerge from Corporate to Startup event, and she had this to say:
"What I can do a good job of is putting myself in the customer view. I just am obsessed with what the customer wants."
Later in the evening, the panel was asked, "How important are sales skills for a startup founder?" Sales are key for any startup founder. Event moderator and CEO & founder of thinkspace Peter Chee made the point:
"My personal feeling is that if you are adverse to sales and you don't want to do sales, you probably shouldn't be a startup founder."
I think it's safe to say that a lot of us are adverse to sales in the traditional sense. It conjures up images of used cars salesmen and pushy telemarketers. Shauna touched on that point, but also circled back to her customer-centric viewpoint from earlier in the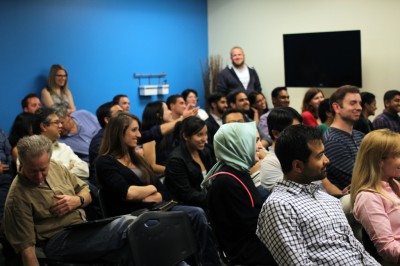 night.
"I feel like 'sales' is sort of a bad word to me, because I don't ever want to be 'salesy.' But simplifying what the customer needs, and the communication side, I think is so valuable."
So, as a startup founder, how can you reconcile this idea that "sales" is a bad word with the fact that it's a huge part of what it takes to make your startup successful? Maybe we can start by reinterpreting the act of selling itself. What happens if we approach our sales from a place of empathy? See things from our customer's viewpoint? Relate to them and really figure out what they need? You can create a symbiotic relationship, where you are not coming from a place of asking for something, you are offering something that can really help your customers. You are creating connections. You are creating true value. And, as Don Gerould responded to Shauna:
"That's exactly what a good salesperson does, by the way. If you're something other than that, and you think you're good at sales, then you're not very self aware."
Video clip from the event:

Handouts from the event:
1) Questions to ask before you quit your job and join a startup.
2) Recruiting Services provided by thinkspace.