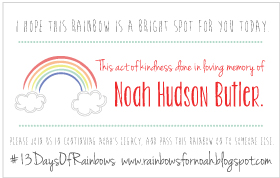 The holidays are called "the most wonderful time of the year."
And that can be very true. Especially when festive foot-tapping sing-a-long music is played in every store you enter, decorations are around every corner, and a fresh dusting of snow is just another sign of the magic of the season.
But the holidays can also be hard. Really, really hard.
If you've experienced the loss of someone close, you know this. You dread the holidays because of the absence it points to. When someone who was there – or you planned to be there – isn't there anymore, your life is changed. And so are your traditions.
How do you honor and mourn a loss in the midst of excessive celebration?
#13DaysofRainbows (which you can read more about here).
A good friend of mine lost a baby boy named Noah much too soon in life, and around this time last year decided to honor his sweet life through random acts of kindness called #13DaysofRainbows. Things like: snow shoveling a driveway, delivering a poinsettia to a local coffee shop, a care package for a boy in the hospital, and bringing a pot of soup over to a neighbor. In the midst of the "merry and bright" holidays around my friend, she sensed a dark and hard time settling in. #13DaysofRainbows didn't provide an out from this hardship, but it did provide a glimmer of hope. Because sometimes even the smallest act of kindness and generosity can remind you that good still exists.
#13DaysOfRainbows is celebrated December 5-18th. Join many of us as we participate with the movement to spread love and joy through random acts of kindness . #13DaysOfRainbows cards are available here, and don't forget to use the hashtag! There is so much you receive when you give. Let the kindness-spreading begin 🙂