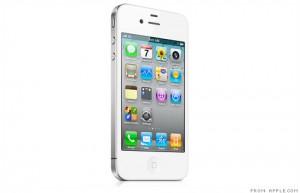 I know you are all wondering what I decided to do since I wrote my last blog post asking the question, "Should I Wait For The iPhone 5?" But before I tell you if I've given in, I wanted to talk about Apple's latest product launch: the White iPhone 4.
According to CNN Money, on the day that Apple released the white iPhone 4, Brian White, an analyst at Ticonderoga Securities said "The delayed launch of a white iPhone has created a certain mystique around the product. We expect incremental iPhone 4 purchases due to this launch, driven by replacements, upgrades and/or new iPhone 4 purchases." Also, according to CNN Money, the analyst expects the white iPhone to "incrementally increase iPhone 4 sales by between 1 million and 1.5 million per quarter until the iPhone 5 is launched."
So, did this really happen? Has Apple really increased their sales by releasing the iPhone 4 for the third time? At this time, no one can be sure what the White iPhone is really going to do for Apple. But, according to Forbes, the White iPhone sold out in Beijing and Hong Kong after only an hour. Since China accounts for 10% of Apple's total sales, you know that Apple has to be pleased that the White iPhone is keeping their sales momentum in China going.
I would really love to know your opinion. What do you think? Was the launch of the White iPhone 4 a victory for Apple?
Footnote (for those of you that care): I had decided that I would try my best to wait out for the 5, but then my droid completely crashed on April 23rd. I couldn't even get the thing to turn on. Naturally, I immediately headed for the Apple store. I got my iPhone and LOVED it! My only complaint (which my husband heard maybe a million times in the next 24 hours) was, "I don't care about having the 5, but I really wanted a white one!" I had assumed that the white version wouldn't be coming out until the 5 was released. Then, when I saw that the iPhone 4 came out in white no less than 5 days after I had purchased the black one; I flipped! I flipped, that is, until my team reminded me that I was still within Apple's 30 day return policy! ;] So, after work, I marched over to Apple, iPhone and receipt firmly in hand, and made a quick switch. Now? I'm as happy as can be.