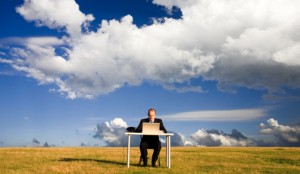 Lets face it- the way we live and work is changing rapidly. We are clocking into the office less and are trading in corporate positions to start our own businesses. We are working from home, in coffee shops, and during our bus commute; our laptops are our new desk! Working virtual has amazing perks, however, our image suffers from not having the traditional office. We, at thinkspace have solved this problem by creating a way to maintain the flexibility of a virtual workspace while maintaining a flexible, secure and supportive, cost effective, environmentally friendly professional presence and space for you to grow your business. We are offering you a professional Redmond business address, fully staffed phone answering services, and an established and respected business infrastructure. Do your business a favor, introduce it to virtual office space!
1. Professional Presence: Establish yourself as an industry leader with a business. Present yourself as an invested, respected, professional and reliable business. A business address allows you to look established and permanent.
2. Flexibility Our virtual office provides mobility and freedom! Our fully staffed receptionists ensure that you never miss a call. Work from anywhere and appear to have multiple locations (we have Redmond and Seattle office addresses). Don't worry about having to sign long-term leases.
3. Cost Effective Let us provide all of the staffing, don't worry about expensive monthly rent, or tenant improvement costs, cleaning and maintenance fees or maintenance of office equipment. Have an overall lower monthly overhead!
4. Administrative Support With our virtual office, you have complete administrative support. Let us handle the calls, the mail and incoming packages, the faxes and scanning, and odd jobs and administrative projects.
5. Security- Don't use your home address or a P.O. box! Using a home address appears very unprofessional, and can be a security risk to you and your family. Using a P.O. box shows your potential clientele that you do not have company head quarters. This can break a close before you even have your first meeting.
If you are interested in hearing more about our virtual offices, contact me at [email protected], or call (425) 629-6206. To view our website CLICK HERE.