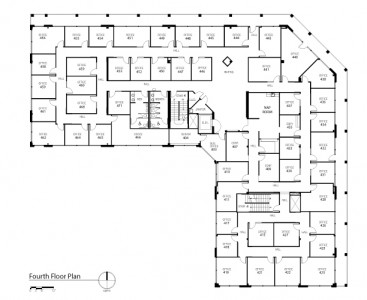 Office space in Redmond – and at thinkspace – is a valued resource. Startups and employers are drawn to Redmond's corporate environment, and as businesses continue to grow and expand, thinkspace has made the decision to grow with them. In order to meet the needs of our community, thinkspace is excited to announce that a fourth floor will soon be added its Redmond location. Currently, the three floors at the Redmond location are full of thriving and energetic members. But as more and more startups and companies move into the area seeking office space and an entrepreneurial community, the decision was clear. An addition of a fourth floor will start this summer, and its completion is estimated (weather permitting) late fall of 2014.
Current thinkspace members located on the third floor will need to work elsewhere during this construction and transition. They will be encouraged to work at neighboring coffee shops and parks. Thinkspace will provide them with wifi connections wherever they decide to work from, and personally deliver incoming mail and packages to avoid any major inconveniences.
Thank you for celebrating with us as we expand!
And yes, if you haven't figured it out yet…this is an April Fool's joke!!!
Because haven't you heard? We have expanded to Seattle! That is our "fourth floor." 🙂
***Can you find the "Nap Room" in this fictional floor plan?