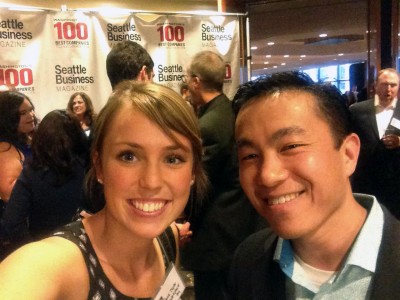 We were just named one of Seattle's "100 Best Companies to Work For" by Seattle Business magazine. thinkspace was ranked 25 in the small company category, competing against hundreds of other companies in the Puget Sound area. It's great to be chosen for this competitive award along with so many other notable companies. A big thank you to my employees for being a part of this company. I certainly enjoy working with smart people who really work well as a team.
The Soft Part is the Hard Part
Over five years ago, I wrote down that I was going to strive to have thinkspace listed as one of "Seattle's Best Places to Work". This award is a nice milestone as it marks setting a goal and achieving it. It actually means so much to me because it's an award that comes from the employees of the company. It's one thing to set revenue goals and hit them but controlling work place environment is a soft skill. Back during my Entrepreneurial Masters Program there was a lot of emphasis put on how the soft part (human interaction and work place culture) is the hard part.
Company Culture is Critical
For me, I want to come to work every day, laugh, have fun, and be excited about what I'm doing. I want to work around people that I like. Being in a small company and startup there are times where there is frustration with huge challenges and it literally can be a roller coaster within the same day. Small companies have huge challenges. You have to do amazing things with a small team where there is always more stuff to get done than seemingly resources to do it. To put time towards the things that we were judged on is not easy. The Seattle Business awards were judged on benefits, communication, corporate culture, hiring and retention, performance standards, responsibility and decision making, rewards and recognition, training and education, and work environment. As a small company and startup, who has time to focus on all those things?!
Best Way to Impact Workplace Culture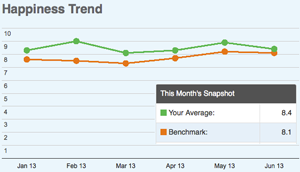 Over the last 12 months, the single best thing that we have done as a company that directly relates to us being named as one of the best companies to work for is implementing TINYpulse (<–my referral link). TINYpulse allows us to capture anonymous feedback from employees to reveal insights, trends, and opportunities to improve retention, culture, and results. Every week employees get a survey that asks a unique question like "On a scale of 1 to 10, how happy are you at work?" 1 being extremely unhappy and about to quit – to 10 being extremely happy and jumping for joy. Each week I have no idea what the question will be or how will my team respond and reply. Each week I have to deal with being comfortable with something that makes me uncomfortable. The TINYpulse website says "Don't try TINYpulse unless you're a leader who's committed to 1) Change; 2) Sharing; 3) Action". TINYpulse has given me an opportunity to listen to the things that can be really tough to hear but allows me to take action. When you are open to receiving the feedback it can be truly transformational.
Having a great place to work is not a once-a-year kind of event. For us it's a weekly feedback loop.