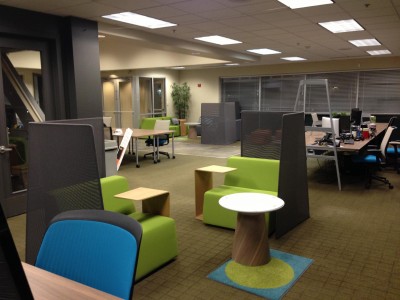 One of the biggest expenses for a growing startup is the need for office space. A garage or a spare room at one of the founder's house is great for initial collaboration and planning, but once you have a few employees, that probably won't work for very long. You could lease a small office somewhere and spend your entire savings on a few month's rent, or you could opt for a a less expensive and potentially more luxurious coworking space (like here at thinkspace). Add to that all the perks many of these spaces make available to their members, and you have a pretty compelling case for seeking one out in your area.
But let's get one thing out of the way right now – coworking spaces aren't just for freelancers. Startups and even established companies are quickly migrating to the idea of utilizing a coworking space over an independent office. In fact, many of our members here are well beyond the startup stage themselves – but just in need of little extra space.
One of the most compelling reasons for businesses to consider coworking spaces are the numerous perks the spaces themselves provide. Because the rent for the physical location is being distributed among its many members, additional perks such as a kitchen and meeting rooms become available.
Here's a look at some of the best perks offered by coworking spaces offered around the country (and even the globe.)
Virtual Receptionist
Having a place to collect your mail is one thing, but having someone to help answer calls while you're busy doing what you do is another matter entirely. Virtual receptionists working for coworking spaces are specially trained to handle calls for a variety of different businesses, take messages, and make sure you get the information you need quickly and accurately.
Typically, you'll only pay for the calls you receive and/or a fraction of the costs of having a member of your own staff sit at the ready to answer the phones during business hours.
Kitchen
Never underestimate the value of a kitchen at your office. Having a counter to prepare a sandwich or a fridge to put your lunch in is a benefit not every stand-alone office can afford for its employees. Many offices break the budget just giving you enough space to put a desk and a chair down for every employee. Having a dedicated kitchen and/or break room to escape to is a big deal, and a common perk coworking spaces offer their members.
Access to Shared Resources
Printers, copiers, fax machines, desks, chairs, and even your Internet connection costs a lot of money to set up and maintain. Coworking spaces take care of this, and many of these tools are available to you for pennies on the dollar. This is in addition to maintenance, repairs, and IT costs associated with keeping these vital systems up and running.
Collaborative Benefits
Collaboration is one of the many unlisted perks coworking spaces make available to its members. If your business needs the help of a graphics designer, there's a chance one is actually at your coworking space, available to take on an assignment and pitch in. Likewise, your startup might benefit from collaborating to help other businesses in the space. It's a community, and that means folks tend to help each other out.
Even some of the less-critical components of running a business can be made easier in a coworking space. Holiday parties are commonly coordinated between members of coworking spaces and thrown at a fraction of the costs associated with a single group doing so independently. Some coworking spaces will even manage these types of events for you so you can concentrate on the things that matter most.
Meeting Rooms
Having a conference room to meet with members of your team and/or clients that stop by is a big deal for many startups. Often, new businesses have to make do with turning every coffee shop and restaurant in the immediate area into a meeting room to avoid the embarrassment of attempting to play host to clients in a shoebox office.
Coworking spaces commonly give members dedicated meeting spaces where they can have their morning meetings, meet with clients, and handle one-on-one reviews without having to do so in the main space. It's one of those small things that makes a huge difference in how your startup works.
No matter your reason for considering a coworking space, it's clear that the perks many of these spaces offer their members can far outweigh the costs involved. Often, we overlook the simple things that makes a simple workspace easier to work in and around for everyone involved. Not everyone has to have a kitchen or a meeting room to be successful, but it can certainly help.