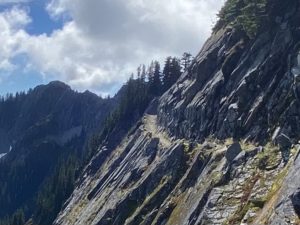 Trail running and launching a startup are two things that I love. They both are quite an adventure with peaks and valleys. I think I've fallen in love with the journey and while the destination is a goal, the path is what makes me feel alive. While it was quite beautiful passing through Kendall Katwalk, I didn't stop there, I kept going, with each turn, led to another mile, and the beauty of the PCT just kept unfolding.
Preparation for the Adventure
I will say that my planning and preparation for these adventures is teaching me to mitigate risk as best I can and always have a Plan B. In startups the types of risks that I think about are market, financial, people/team, and legal risks. On trail, it's about wayfinding, nutrition, water filtering, training, my Garmin inReach (safety). Plan B is knowing that your Plan A probably isn't going to go exactly as planned.
Alone But It Takes a Team
On trail there's a lot of times you're alone. Miles and miles without seeing another person. I always communicate with my trail experts before I head out to places I've never been. It's critical to seek the knowledge of others that have been there before. In a startup, your team might not have all the depth and knowledge so it's equally important to put together an advisory board. Your advisory board needs to be made up of people that have the depth of knowledge in areas that you don't have and connections in the industry that you are operating in.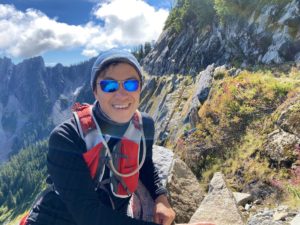 The Mountain will Humble You
The mountain doesn't care what the results of your last race are. It doesn't care what University you went to or how successful you were in your corporate career or how much money you have. Its an equalizer and you will find out what you're made of at your core. Startups are kind of similar, better leave your ego at the door, because that big corporate title doesn't mean anything, you no longer have the clout of the Fortune 100 Company to attach to your name. It's just you and the little resources you've got. It's also an equalizer. So if you're into power, wealth, status, don't come near the mountain or startups, you're just going to find a lot of miles that want to break all that. What you will find is the beauty in everything else which is what is inside you and your ability to grow as human being.