I enjoy listening to music while I work. However, I am sick of
Pandora
, and my iTunes library is embarrassingly out of date. Therefore, when someone told me about the New York based startup,
Turntable.fm
– my work music source changed for the better.
Turntable.fm
is a site where users can connect and share music in genre categorized rooms. The music in each room is controlled by five DJs. Any user can be a DJ if the spot is vacant. However, the popular rooms can have close to 200 users inside of them making the DJ role a coveted position. Turntable.fm keeps it social by adding a chat box to each room.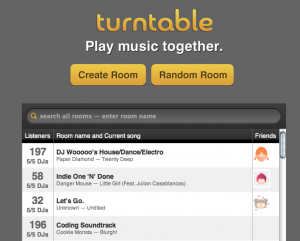 I have learned to use Turntable.fm as a resource for productivity rather than a distraction. At work, I will login to Turntable.fm and select a room that fits my current music mood (right now I'm hanging out inside of the "Indie While At Work" room!) Instead of taking on a DJ roll and chatting away with the other users, I will keep Turntable.fm active in a browser tab and carry on my way.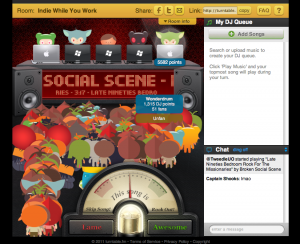 I love how the music played on Turntable.fm is hand-selected by other users, and the songs keep playing without annoying ad interruptions (at least not yet).If you're interested in spicing up your music playlists, I recommend giving Turntable.fm a try. Just keep in mind that it can be extremely distracting. That is, if you let it.