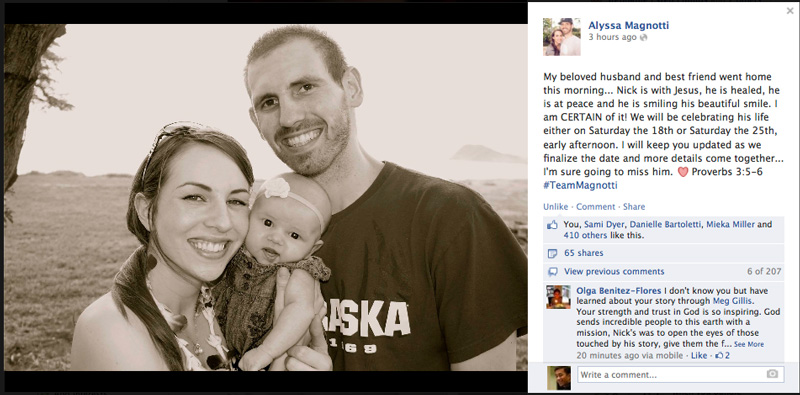 Over two years ago on 11.11.11 the Seattle community surrounded Nick and Alyssa Magnotti as Nick battled a rare form of cancer. We have all have loved, hoped, cared and prayed for Nick and Alyssa along this journey. This morning Nick passed away.
In the spirit of our desire to wrap our arms around Alyssa and Austyn in this most challenging time, please consider this alternative to sending a sympathy card:
Take a piece of blank paper. Trace one hand. Write a note. Tell her this represents a giant hug from you. Have your spouse, family do the same, if appropriate.
Mail to:
Alyssa Magnotti
c/o Thinkspace
8201 164th Ave NE, Suite 200
Redmond, WA 98052
(If you have her direct home address you can mail it there, otherwise, we will forward all mail to her)
Our goal is to immediately fill her mail box with hugs from those of us that walked this journey. The sooner, the better.
If you would like to express support in lieu of flowers, perhaps consider donating to Austyn's (8 mo.) college education. You can make a donation through this website: http://teammagnotti.org/
Bless each of you,
Peter