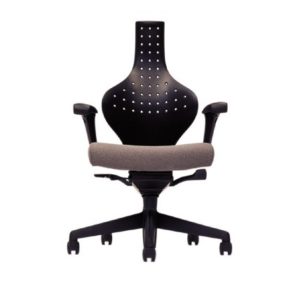 I've finally got a little time to write about my office chair. While out shopping for new office furniture, I had my sights set on a Herman Miller Aeron. The same kind of chair that I used to sit on back when I was working for "the man". I had been looking around for a long time trying to find a good deal. I looked on Craigslist, Murphy Auctions, eBay, DoveBid, I even asked my neighbor Rick who still works for Disney to sell me one of the old chairs that they were no longer using but he was not able to get me one.
When I was out looking, I saw a funky looking chair in the showroom and decided to give it a try. The shape of the back is unlike a traditional chair. It still provides all the support of a "normal" chair but it seems to be supporting my spine angle much better. I also like the support that I'm getting right between the shoulder blades and lower back. I sat in a Herman Miller Aeron for four years and I don't remember ever having my chair feel as comfortable as the Keilhauer Junior. I ended up purchasing the chair with a black leather seat and adjustable arms. It has enough controls without being too complicated. The Keilhauer Junior is designed by Tom Deacon. The design has a very contemporary style to it and makes a bold statement. The chair is also GREENGUARD Certified and contributes to our LEED certification.
I've been using the chair for one month and absolutely love it. The cost of the Keilhauer Junior is maybe $200 cheaper than a Herman Miller Aeron. While the cost of the chair is still not cheap, I rationalized with myself that I'm now at that age where I can't afford to have back pain. Going to a chiropractor would cost me a lot more in the long run not to mention the impact on my golf game.