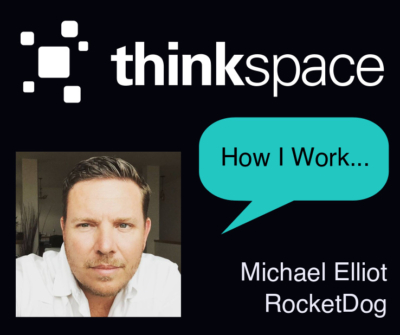 The "How I Work" series, most noteworthy done by Lifehacker, has been reproduced by multiple authors for good reason: people love to hear from successful and influential people and learn the intricacies of their day-to-day. It can be inspiring and motivating to hear about the best, and oftentimes most simplistic practices. In our "How I Work" interview we refined our questions by adding a few of our own and spiced them up with inspiration from Lifehacker as well as thinkspace mentor Matt Heinz. If you're interested in checking out our previous "How I Work" interviews they get compiled here.
In this edition you'll be hearing from Michael Elliott from RocketDog. Rocketdog originally launched in 1999 and Michael dove in full time in 2000. Not only is he an active member at thinkspace, he's also heavily involved in the tech community. This year he was co-lead for Seattle Startup Week and sits on panel discussions often. It's important for entrepreneurs to make time for themselves and Michael does that by going on hikes with his bulldog Chuck. You can visit Michael, and Chuck sometimes too, in the Seattle office.
Name: Michael Elliott
Current Gig: Owner of RocketDog
One word that best describes how you work: Hustle
Current mobile device:iPhone
Favorite verb: Get
Grit Score: (You can learn your Grit Score here) 3.75
How do you recharge or take a break from work? Great food and drinks with friends.
What was your dream job/passion project as a kid? NFL Football and or Superhero
Sunrise or sunset: Sunrise. It's such an amazing sense of renewal, though I have to admit I see way more sunsets.
Tell us a little about your background and how you got to where you are today. I'm somewhat of an accidental entrepreneur. I enjoy, and sometime dread, controlling my own destiny, but it is the path I have chosen and wouldn't have it any other way.
Number of unread emails right now? 0
First thing you do when you come into work? Review my plan/projects for the day, then meditate for 10 minutes.
What is your email management strategy? Not as good as I'd like.
How do you keep yourself calm and/or focused? Meditation.
What's your perspective or approach to work/life balance? I'll let you know when I find it.
Are there any work rituals critical to your success? My notebook. I write down all of my tasks/projects that I need accomplish for that day with two items on the top of each page: "What's the one thing that I can do to dramatically change my world" and "What's the most important thing I can do today to achieve that goal?"
What apps/software/tools can't you live without? Adobe Suite
Last thing you do before leaving work? Review my tasks and what I need to finish before end of day.
What's your least favorite thing to do, and how do you deal with it?The hunt. Though I love it, it never ends.
What are you currently reading, or what's something you'd recommend? I'm a big fan of Culture Code, Power of Habit, and The Power of Moments.
Who are some mentors or influencers you wish to thank or acknowledge? EO (Entrepreneur's Organization) has been a fantastic experience over the last decade. It's like have a built-in brain trust of several hundred of people, that I can reach out to anytime.
Describe your workspace? Awesome!
What's the best advice you've ever received? When I was graduating high school, I was gifted some money as a graduation present and when my best friend's dad handed it to me, he said "I gave you more than any of the other boys because I know you will do something with it and I look forward to seeing how your journey turns out."
Is there anything else you'd like to add that might be interesting to readers and fans? I love giving back, and I encourage those around me to find ways to give back in a meaningful way.
Interested in becoming a "How I Work" spotlight? Contact Stephanie and she'll be excited to come chat!