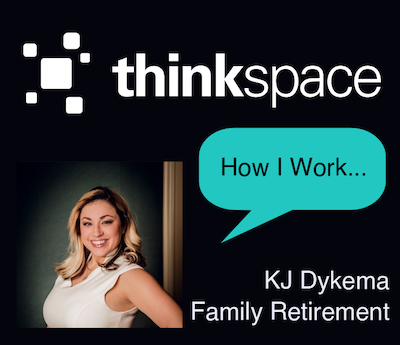 The "How I Work" series, most noteworthy done by Lifehacker, has been reproduced by multiple authors for good reason: people love to hear from successful and influential people and learn the intricacies of their day-to-day. It can be inspiring and motivating to hear about the best, and oftentimes most simplistic practices. In our "How I Work" interview we refined our questions by adding a few of our own and spiced them up with inspiration from Lifehacker as well as thinkspace mentor Matt Heinz. If you're interested in checking out our previous "How I Work" interviews they get compiled here.
In this edition you'll be hearing from KJ Dykema from Family Retirement. As a financial advisor she practices what she preaches and lives frugally and budgets like a BOSS. She also travels all over to help employees and individuals understand their own 401k's and sets up 401k Lunch and Learn with a variety of companies. During her free time she spends time with her family. Not only is she the oldest of seven siblings but also has a 5 year-old son. You'll be able to find them weekly at the Pike Market walking around, one of their favorite and longest-running activities. In addition to spending time with family, KJ loves to share two really incredible resources in the community, Seattle Preschool Program and Launch, who do great things for underserved families allowing tiered fees, programs, and making sure all kids have quality education. If you are interested in learning how KJ can help, the best way to contact her is through her website or her company text line.
Name: KJ Dykema
Current Gig: Independent Financial Advisor and Insurance Professional
One word that best describes how you work: Time block
Current mobile device: iPhone X
Favorite verb: Love
Grit Score: 4.7 You can learn your Grit Score here)
How do you recharge or take a break from work? With my son; his infectious smile keeps my end goal in mind.
What was your dream job/passion project as a kid? Pediatric Dentist
Sunrise or sunset: Sunset
Tell us a little about your background and how you got to where you are today. I started at a small independent firm with one advisor. When he saw my potential I had to replace my job with automation so I could take client meetings and maintain the portfolios. I was hired when I was seven months pregnant and took three weeks off and when I came back the advisor and I achieved goals he had never hit before.
Number of unread emails right now? 0 for now…
First thing you do when you come into work? Use my Push Journal to plan out my day and time block to make sure it can all get done.
What is your email management strategy? I have it set for Unread first then, keep emails that need a follow up response in Everything else until they are complete when I move to a folder.
How do you keep yourself calm and/or focused? Write everything down. If it's off your mind and on paper you have more headspace to attack everything.
What's your perspective or approach to work/life balance? There are sometimes when I need to work late or weekends, but if I am with my family that time needs to be completely dedicated to them and I need to be present.
Are there any work rituals critical to your success? It's a bit odd but I usually wait until 10 am or until I have crossed off some of my initial tasks to have my coffee. I make it a treat so I feel like I have earned it for the day.
What apps/software/tools can't you live without? youcanbook.me, Zoho, Canva, Mint
Last thing you do before leaving work? Fill up my water bottle and say bye to the Thinkspace greeting team.
What's your least favorite thing to do, and how do you deal with it? When I get questions about how politics effect portfolios. I have to refocus what the goal is of the investments they have and what they CAN do to ensure their security with their plan.
What are you currently reading, or what's something you'd recommend? Every time I get on a plane I start to reread The Tipping Point by Malcolm Gladwell.
Who are some mentors or influencers you wish to thank or acknowledge? Chalene Johnson. I love her organization strategies and her podcast are what keep me dialed in.
Describe your workspace? Bright and Calm
What is your working process like? I use the Push Journal to prepare. I form habits and those habits help me clear up and allow me to be creative, spend time with my son, and everything else.
What's your best shortcut or life hack? I don't believe in shortcuts. It's hard to take shortcuts and expect the same end result.
How do you keep track of what you have to do? Push journal. Chalene Johnson (creator of Turbo Kick and other workouts) introduced me to it. It breaks down goals, number of hours needed to get things done, time blocking, etc.
What's the best advice you've ever received? Get out of the problem and into the solution.
Is there anything else you'd like to add that might be interesting to readers and fans? I was in the restaurant industry for over 10 years and still work twice a week at a bar because I love being social. The dynamic of those people is really interesting.
Interested in becoming a "How I Work" spotlight? Contact Stephanie and she'll be excited to come chat!