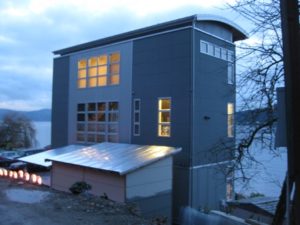 Tonight, before dinner, I was walking out on the E Lake Sammamish Trail and walked by the best house on E Lake Sammamish. The house is located right on the lake and has a spectacular view. I happened to meet the owner of the house and she was so kind to give me a tour. The lot is 3600 SF and the house is 1500 SF. The house is three stories and each floor is about 500 SF. The house is 14 feet wide by 38 feet long.
I always wondered what kind of people lived in a house like this. My initial thought before meeting the owner was that it was a pair of empty nesters that were living in their dream house on the lake. It turns out the owners have four children! I never would have thought it to be possible to put a large family into that house.
The owner shared with me some of the creative things that she did in order to build a house that could really maximize the square footage. It was inspiring to hear her talk about trying to find a way to squeeze out five more square feet. I think about how inefficient the typical floor plan of house is and it makes me appreciate this house even more.
The first and third floors are living space and the second floor is where the kitchen and family room are. The house feels quite spacious partly because it has a ton of windows. In the family room they have a Nana Wall, an accordion style sliding glass door. If you haven't ever seen one go look at the Nana Wall website. The Nana Wall makes the lake feel like an extension of the house. One of the other cool features of the house is a exterior fireplace on the side of the house — I can already envision sitting outside next to the lake staying warm by the fireplace! I would take this kind of living over a downtown condo any day. The house also has a lot of energy efficient features like on-demand gas hot water and radiant floor heating. I love the warm concrete floors.
I'm ready to downsize into this kind of house!