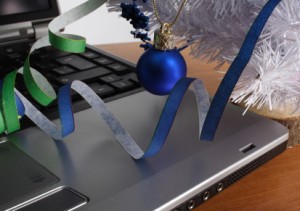 Big, lavish corporate holiday parties are a great way to help startups and teams unwind after a very busy and stressful year. This is the one time of year where winding down is acceptable for startups, though investors are understandably very alert to overspending on holiday festivities and other non-critical tasks.
So, what do you do when you want to throw a holiday party for your startup? Do you throw caution to the wind and break out the credit cards, or do you attempt instead to take the moreconservative route and keep it simple and casual?
Let's get one thing out of the way: A holiday party is not something you want to use as a
promotional tool for your business. No matter how great the party might have been, history shows that startups with large party budgets tend to turn out to be bad investments in the long
run.
Back in the late '90s, the startup world was high on the dotcom bubble. Companies like Razorfish, a web design and marketing startup with clients that included Charles Schwab, went the lavish route and dropped five figures on a holiday party that included bellydancers, copious amounts of free food and beverages, and a line around the block. The party was seen as a tremendous publicity boost as stories of strippers and excessive drinking (likely just made up) became the buzz around town for several months after the party took place.
A little over a year later, the founding partners stepped down from senior management positions after several quarters of reported loss. The company eventually sold under new management.
Planning on a Budget
So, what can you do to make a budget-conscious holiday party work for your startup? First, be sure about how many people you're throwing it for. Unless you are in the party business, it might not be the wisest idea to throw a major bash for the entire world to come and enjoy an open bar. Instead, consider your staff and their families the guests of honor. Here at thinkspace, we think planning a party for around 60 people with a budget of around $5k is ideal. This breaks down to about $80/person, but smaller companies have been known to spend as much as $100/person for a holiday party.
Depending on your budget, renting out a banquet hall and handling everything yourself allows you a bit more freedom to make the party match your particular company's style, but this could also be an expensive and time-consuming option. Not all startups may have these resources, so you may want to think about renting a large meeting room inside a popular restaurant instead. This frees you up from cleanup, makes catering costs more predictable, and might even cover the issue of decoration. Sometimes, the best decorations are the ones that slowly disappear throughout the night. Jars filled with candy make an excellent and enjoyable centerpiece for any table, and anything left over can easily be trucked over to the office and made available to staff during the following workweek.
If you happen to be the in Seattle area, some great venues that fit into any startup's holiday budget might include a party at the Garage, a night out at Teatro Zinzanni, a Christmas Cruise, or renting out Dilettantes on Broadway. (What's better than celebrating the holidays than with chocolate and drinks?)
Combine Forces With Other Startups
As we all know, startups can't exist without the rest of the community. You may be located in a building shared by other startups (such as thinkspace), or part of a collective that would be open to planning a join holiday party in which costsare split between the businesses involved. This would enable you to easily scale a cozy and intimate party up to a more lavish and open one where attendees can meet new people with similar backgrounds.
Everything is less expensive when its costs are distributed. A joint holiday party may even make it easier to justify the costs involved with an open bar, band, or who knows… maybe even some bellydancers…(just kidding, of course.)
If you're in charge of organizing your startup's holiday party, how are you planning to celebrate? Share your ideas & advice in the comments!