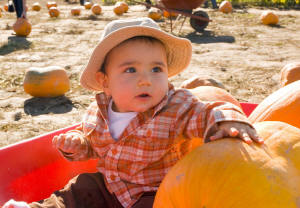 Still haven't made plans for the weekend? Check out my top three picks for fun fall activities this year on the Eastside.
Pick #3 – If you want to stick to the Eastside this weekend, check out The South 47 Farm (just minutes away from thinkspace actually). They've got fresh vegetables, gourds, and pumpkins galore (complete with pumpkin pie recipes) and a corn maze that can be explored by day or by night. This maze normally takes about a half of an hour to complete and includes are interactive questions in that test your knowledge of local farming and provide clues to help you find your way out! Call 425-869-9777 for more information or visit their website at www.thesouth47farm.com.
Pick # 2 – If you're okay with a cozy fall drive, head out to Everett for Biringer Farm's autumn celebration, Pumpkin Country! They have a ton of pumpkins (u-pick or pre-picked), Hay Rides, Face Painting and a "Boo Barn" (filled with not-so-scary frights for the youngsters). Biringer Farm is open this Friday and Saturday from 10am-5pm! Check out their website at www.biringerfarm.com or call them at 425-259-0255 for more information.
Pick # 1 (TOP CHOICE for Three Years Running!) – My number one pick is unquestionably Stocker Farms in Snohomish – it's well worth the drive and has something for everyone! They host a difficult 10 acre corn maze called the Boeing 787 Dreamliner that can take up to an hour and a half to complete, The Haunted Field of Screams (complete with grim reapers and ghosts and not recommended for younger children), pumpkin launches, the Children's Festival Field and fresh cider. Open for business through this Saturday! Check www.stockerfarms.com out for more information or call 360-568-7391.