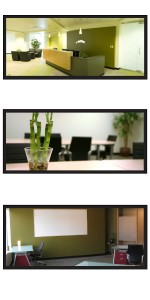 With unemployment rates still on the rise, many people have given up on looking for a job and have decided to take the initiative and create their own. Starting up your own company is always a bit of a challenge, but in an economy like this, people are even more unsure of themselves. The cost of legal fees, supplies, employees, and other services are enough to have any up-and-coming entrepreneur shaking in their boots. Not to mention, you've got to find a place to run your business. But, don't go backing out of your plan yet! There are many, many alternatives to renting out an office building! Let me share four very affordable and practical options.
1. Shared Office Space: Instead of renting out an office building that you will need to outfit with a frontdesk, copy machine, new paint, etc. Try renting out just an office in a larger commercial office building. The staff at these types of facilities will take care of keeping the copy machine running, providing hot coffee for the masses, and will keep the lobby area neatly furnished and presentable for your clients. Not only will you save money on the rent each month, but you will also save yourself the hassle of building maintenance.
2. Divvy Up an Office: Some of the office facilities also offer "divvy programs" where companies can divvy up office time with each other. For example, thinkspace offers a Divvy program where, for $200 per month, you have access to a fully furnished, wifi enabled, private office 2 days per week. You end up paying $25 or less per day. It's a great deal and often a great alternative for companies who just don't yet have the funds to get an office space of their own.
3. Coworking: If you are currently running your business out of your home but feel like you need some time away every once in a while, there is always coworking. Coworking normally consists of a larger open room with multiple places to work. Desks, chairs, and internet access are always provided and sometimes other things are included as well. Basically, for a small fee, you can come in and use one of the workstations for the day. It's a great way to be inspired by the other people who would be working around you and could get you out of that coffee house rut.
4. Virtual Offices: Virtual offices are also great for businesses just starting out. With a virtual office, you obtain a physical presence for a low price. You are able to use the provider's prestigious address and location as your business address. Most virtual offices also offer a delivery service so that your packages can be dropped off throughout the week and signed for. Many also offer mail forwarding services.
There are many options for companies just dipping their toes into the business world. thinkspace actually provides all four of the options listed above for a very competitive price and in a Class A building. If you have an questions on any of these or other thinkspace services, please email Alyssa (at) thinkspace (dot) com.