Everyone fails. If you've never failed, you're not trying hard enough. This pretty much applies to everything in life.
I've been following the story of Mo Isom, the "Former LSU goalie will try out for kicker but no matter what happens, she knows it's not the end" an article by Jordan Conn.
It's not about the result, it's about the journey. For Mo Isom, she failed again and again, but, she never quit. Sure she didn't make the team as kicker, but, you can tell she did give it everything she could. There's a lot to say about a person's character who doesn't quit – there's a level of dedication and commitment that is very admirable. The odds definitely stacked against her. The physical punishment of killing her body in a weight room and emotional rigor that comes with everyone questioning, judging, and doubting her. It's so much easier to just quit and move on to something else that's easier but that becomes a person's story. Not knowing much about Mo Isom, I'd say she's exceptional, the drive, determination, her faith, the way she handles herself when the answer is "no" after 18 months of going after a goal. Wow. Definitely no doubt that there will be HUGE things in store for her.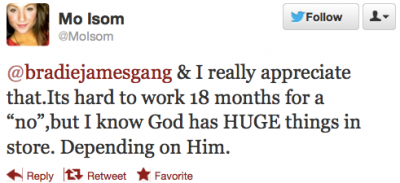 While it's great to hear about people who succeed — the more interesting story is about the people that face the challenges that really test their fortitude. That's what defines us.