Last week we attended the Northwest Event Show at the Washington State Convention Center. There were vendors, suppliers, venues, restaurants, caterers, wineries, and small businesses in attendance. One of my favorites was a company called Home Grown Trailers, which sells and rents sustainable wooden trailers to people seeking to be off-grid. There were tons of interesting and engaging things to look at which was inspiring for anyone looking to transform their next event.
I was taking note of which event space venues showed up too. Of course we provide event venue space so I'm listing us here as well.
Thinkspace – Great for strategic planning meetings, offsite meetings, and board meetings on Lake Union. We can accommodate 12-200 people in four different spaces.
I also met some really great people at the following event space venues: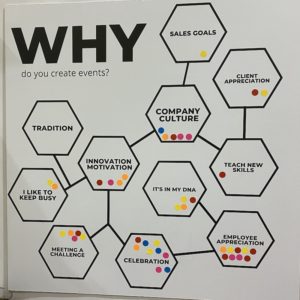 My favorite booth at the event was the Foodz Catering booth. They had the most engaging booth at the expo. Their interactive laboratory gave attendees an opportunity to experience food with multiple senses. In addition to a monochromatic room where they took away color, they also sent everyone away with a bottle of olive oil that attendees got to infuse with their choice of peppercorns, rosemary, garlic, peppers, and more. Overall, the event show was a great way to network with everyone that supports the event space industry and we were excited to be a part of the community.