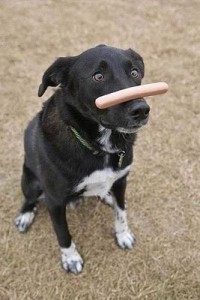 Last week, as I was leaving the dog park, a child approached me and asked if my dog was a "good boy today". I chuckled and told him "of course"! He then asked if I would like to purchase one of his home made dog cookies to reward him. After watching my dog gobble up the carefully made, bone shaped "cookie", he turned to me, and with overt eye contact, a smile on his face and a glint of charm in his eye, he shook my hand, and said "it was nice doing business with you".
I bought 10 more cookies.
This 9-year-old kid was no ordinary dime-a-dozen lemonade stand entrepreneur. His vegan peanut butter dog treats were wrapped in a beautifully designed paper wrapper, displaying a company name, logo, and phone number "where you could order more". I give it 3 years before this young whipper-snapper is the richest 12 year old in the world…. I hope he will be.
My encounter with this child has left me delightfully dumbfounded. The way he interacted with me shows that his business is not a product of parental pressure. He was clearly innovative, a great marketer, and possessed a natural ability to close a sale. Way to go lil' dude! After a little research, I have learned of many other micro-mega-noggins. One thing that has really struck me, however, is the lack of emphasis put on child entrepreneurs. While some may argue that kids should stay kids, I believe in supporting a child who has a a leaning towards business. A woman called me today here at thinkspace to tell me about a new young business owner here in Seattle. After getting his information (I will contact him this week), we had a discussion about they way our school system prepares children to become good employees, rather than nurturing entrepreneurial minds. She had a lot of great points.
I would love to hear your opinion on this, and get feedback on this topic in general. Also, we are seeking child entrepreneurs to interview, please use the comment forum below for commentary, and email me at [email protected] to nominate the lil' business brain that you know of!
Here is the story of a fella that has been featured all over the country as one of the best new brains- Jason O'Neil, the creator of Pencil Bugs. He is truly inspirational!
A Note from Jason O'Neill, Age 12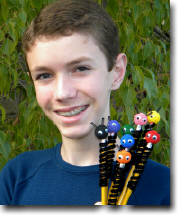 Pencil Bugs
When I was 9 years old, I had an idea to make a product that I could sell at a craft fair. I've always liked school. I get good grades but I know school is hard for many kids. I started thinking about ways to make homework just a little more fun. That's when I came up with the idea for Pencil Bugs.

With the help of my parents, we bought the supplies and made my first Pencil Bug.
I wanted to make them unique so decided to give them each a name and birth date. To keep them healthy for a long time, care and training instructions were also important. I decided that a Certificate of Authenticity was the right touch to include with each Pencil Bug.
I hand paint each head in one of the eight colors. I use twisted black wire for tiny antennas, glue on small googley eyes, and attach black fuzzy pipe cleaners for their bodies that wrap around the pencil. They are removable so you can still use the pencil eraser. In fact, if you leave them a little higher than the eraser, they're quite fun and boingy .
After a few months, I came up with the idea of making t-shirts to match and then started making laminated bookmarks in all 8 colors of Pencil Bugs .
* Text taken from http://www.pencilbugs.com