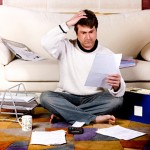 Entrepreneurs are
passionate
about their startups. Many are so eager to get started with their newest, greatest business idea that they rush out to get their licensing from their city and state, then sprint to press the "Go Button." In reality, it really shouldn't take too long to get your business up and running but there is a little more to it than just obtaining your licensing. Here are three things to do that will make your start up look legitimate right off the bat.
Get a website. Just in case you didn't know, phone books have been replaced with this thing called the internet. People now use the internet to get information. Without a website, how do you expect your clients to find you? Websites are a great way to introduce potential clients, investors and partners to your business style, concepts and information. If you are not skilled in the ways of website development, there are plenty of great people out there who can do it for you for a relatively low cost (and, if you don't know of any, I can give you some amazing referrals).
Get a professional email address and separate phone number. I know that the [email protected] account is what you've always used. But, this really isn't appropriate for business. Even if your email address is reasonable, you really should be using your business domain to host your email. This is another thing that those savvy website designers can set up for you. As far as a professional phone line goes, you really want to have your calls separated from each other. Local and toll free numbers go for extremely cheap these days and you can even forward the line to your cell. Then it will be separated for when you finally decide that you can get your own business phone. (If you don't know where to get a cheap business phone number, you can talk to me about that too!)
Get a business address. The internet is a great resource for information but the amount of information that can be attained by strangers is also a bit scary. Many new business owners set up their company with their home address. This is a bad idea. It is very easy for to find the registered address for any given business. Online maps have made it all too easy for people to look up addresses, find out right where that address is and even view the area via satellite street views. Not sure if you feel comfortable with this, but most of the time this is clearly not a good idea. We, at thinkspace, actually offer a Redmond business address for just $59 per month (and includes much more than the address) and should be providing other locations very soon.
There are quite a few things you should do to ensure you get your start up off on the right foot, but these seem to be the most vital (and not always all that obvious). Anything you think I missed?