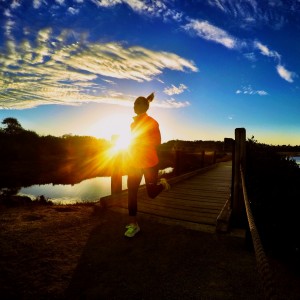 Here are the three reasons why I start my day early. My first reason is backed up by a ton of articles about what super successful people do.
They wake up early. The coolest thing that I learned from the morning exercise routine was I had created a new equilibrium point every single day. I was no longer at the whim of a random feeling on how my day was going to be. Exercise allowed me to always be full of energy, alert, and attack the day with more clarity. If you're an entrepreneur, I think you're going to find that to be a better thing to do than work late at night all the time.
Train at the same time as when you run your marathon. A few weeks ago I ran my first marathon and one thing I did differently was wake up early and exercise. In the past, I trained at night for my half marathons and I was always groggy when it came time to run really early in the morning for the Seattle Half Marathon and Seattle Rock and Roll Half Marathon. The results were obviously different when I trained in the AM for the Leavenworth Oktoberfest Marathon where I've been waking up at 5:15am every day.
Two people that I greatly admire are Annie Duncan and Katie Walvatne. Both of them have amazing positive personalities, get crazy amounts of important work done, are a complete joy to be around, they have grit and resilience, and they both exercise and wake up super early. Oh and both have run marathons!
I've never read an article that talks about how awesome someone is for pushing the snooze button and waking up late. I've also never met anyone that was super successful who was always sleeping in and coming into work late. Once you've made the shift of waking up early, you're going to recognize all of the positive ripple impacts it's going to make on your life and company!